Tripawds is a user-supported community. Thank you for your support!
I had my two month check up. The doctor gave me the all clear, says I am healed up good enough to resume normal activity. My first order of business was a long wrestling match with my brother…NO CHASING though…my mom says not yet…it sure felt good to wrestle. My mom thinks that playing and resuming normal activity will help me build up my strength. She says that the doctor did his job, the physical therapists have been helping me, but i am still not walking upright, I am using my leg exactly the same way I was before my surgery to repair my only existing rear leg, she has nicknamed me scooty, because I scoot myself around. My mom says that the doctor said I am safe to use the leg in any way I choose, so she tells me that she will love me even if I don't walk the way we all thought I would after this surgery. But she says that I am standing strong and tall and that is something I have never done before. She believes that the walking part of it will come in time. She says I am like a baby who crawls first, until they are strong enough to stand and then they are strong enough to take that first step, all in good time, as long as I am safe that is all she cares about…So now we start the process of acclimating me back into life with my fellow pack members, small baby steps here also.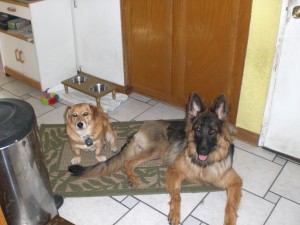 Here I am with my grumpy brother.