Tripawds is a user-supported community. Thank you for your support!
Ok they are any dog Banana Pops – but my mom made them for us and I wanted my mom to share the recipe because she said that it is such an easy, healthy fun recipe for a nice refreshing summer dog treat! I had my first one (ok I asked for a 2nd) tonight! I ate them too fast for my mom to get a picture of me eating them!
Here you go:
1 cup plain whole milk yogurt (healthy for us dogs, make sure you get the good stuff with all the live stuff in it)
2 tbsp peanut butter (we like chunky but you can use either)
1 banana (good for everyone)
Mix all together in a blender or food processor and this size recipe is the exact fit for one standard size ice cube tray! Fill the tray and freeze and then pop out, now if you have a gulper, you might want to fill the bottom of a 16 oz. plastic cup (you know the red costco ones)  and freeze for a bigger size (my brother is a gulper and almost choked, next time my mom will make him one in a cup) Me I can handle the little size, I don't gulp it, I enjoyed it melting in my mouth long enough for me to break it up and eat it!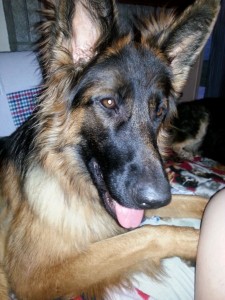 Enjoy!